INTERNSHIPS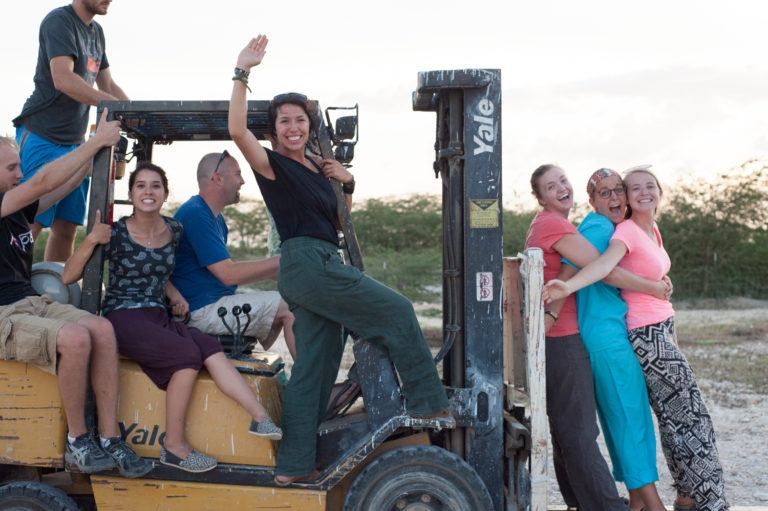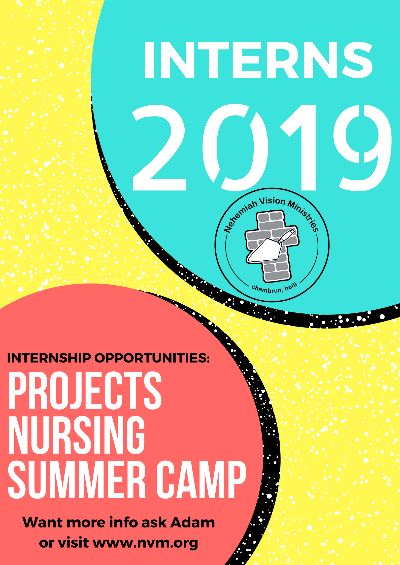 The internship program at Nehemiah Vision Ministries combines discipleship with leadership development in a missions environment. Interns have the opportunity to interact and learn in a different culture while helping NVM in their mission and vision to help bring people from darkness to light; from hopelessness to eternal life. Though not exclusively so, the main areas in which interns serve are in team facilitating, nursing, communications, and English Camp (summer only).
Internships Applications Accepted Until Jan 31, 2019 for Spring & Summer 2019
Continually Accepting inquiries for full semester interns for Spring & Fall
Team  Facilitating – (multiple openings)
Team interns work with project teams every day. Team interns need to be prepared to work hard and get dirty. Team interns help the short term mission teams stay motivated, positive and connected to the spirit of NVM. Team interns are of the first point of contact for project teams during their stay at NVM. If a team has a question, they find their teams intern no matter the time. Teams intern are always on duty and ready to serve others at a moments notice. Interns have a heart of "How can I serve You?" This internship will connect the intern with their team members as they never thought possible.
Student Nursing Interns: (multiple openings)
These interns are nursing students who have completed at least their second year of nursing school.
Nursing student interns will work directly with the staff in the medical clinic on campus.  As a nursing student intern you will have the opportunity to partner with the clinic staff in performing triage, wound care, prepare and teach medications, give injections, assist in the malnutrition program, and work with mobile medical teams.  You will also have the opportunity to experience the health care system in a different culture and language.  This position will require a lot energy, a positive attitude, a willingness to be flexible, and a heart to serve.
English Camp Teaching Interns: (5 openings)
Interns will attend a week long curriculum development and team building retreat in PA the week immediately prior to arriving in Haiti. Must be available last two weeks in June and all of July. Interns will be responsible for a class of students with 20-30 students per class with the the purpose of instruction in English at the beginner, intermediate, or advanced level. One intern will be responsible for daily outdoor activities. Translators will be provided to assist in the classroom. Interns will need to be strong in classroom management, leadership, teamwork, and have a heart of service. Interns will also work with short term missions teams in both a service and leadership capacity. These positions will have a lot of interaction with kids from the local communities.
English Camp Evangelism Intern: (single opening)
Intern will come prepared with a month long, high energy, evangelism program for students ages 8-15. This should include interactive worship, lesson illustrations using any of the following: skits, dance, mime, human video, and/or object lessons. Intern will be responsible for daily Biblically based lesson and for leading and training local student leaders in illustration methods. Intern will arrive in Haiti two weeks prior to the start of camp to work with student leaders and set up for the program. Experience in children's ministry required. Intern needs to be outgoing, have good organization and leadership skills, and be strong in self management. Intern will report to Camp Director with plans for evangelism program and execution. Must be available last two weeks of June and all of July. Looking for someone with a focus in Children's or Youth Ministries.
English Camp Administrative Assistant: (single opening)
Intern will assist the Summer Camp director in daily operation of Summer Camp. This will include supporting all camp staff and problem solving as needed. This will be a very active position, moving throughout the NVM campus frequently. Intern will work with both English Camp teaching interns and Haitian music and artisan instructors. Intern will also assist with meeting the needs of short term missions teams that have come to serve with English Camp. This position will require a lot energy, a positive attitude, a willingness to be flexible, and a heart to serve. Must be available last two weeks of June and all of July. Strong leadership skills and a background in French or Creole a plus.
All inquiries of NVM's internship program can be sent to: teams@nvm.org.