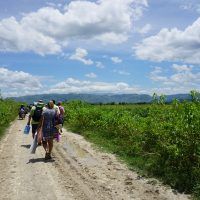 Our 2018 Child Sponsorship Tour wrapped up earlier this month- and we wanted to give you all a glimpse into what an amazing time it was!
A few words from the sponsors that attended this year:
"We want them to know that we care for them, that we are praying for them, and that we want them to succeed. But it's not just about seeing your child, you get to meet their parents (or other relatives) and you might get to meet their teachers. All of these people that work together to make this possible. That's what this experience is- it's getting to see all the working parts that make this happen. And it's just mind blowing."
"They are 10x more rewarding to me than we are to them. I leave with a full heart- a changed heart every time."
This trip was absolutely incredible and we are already SO looking forward to the Sponsorship Tour for 2019. Keep an eye out for details to come!